Farm to School in the Cafeteria Manual - Local Food Procurement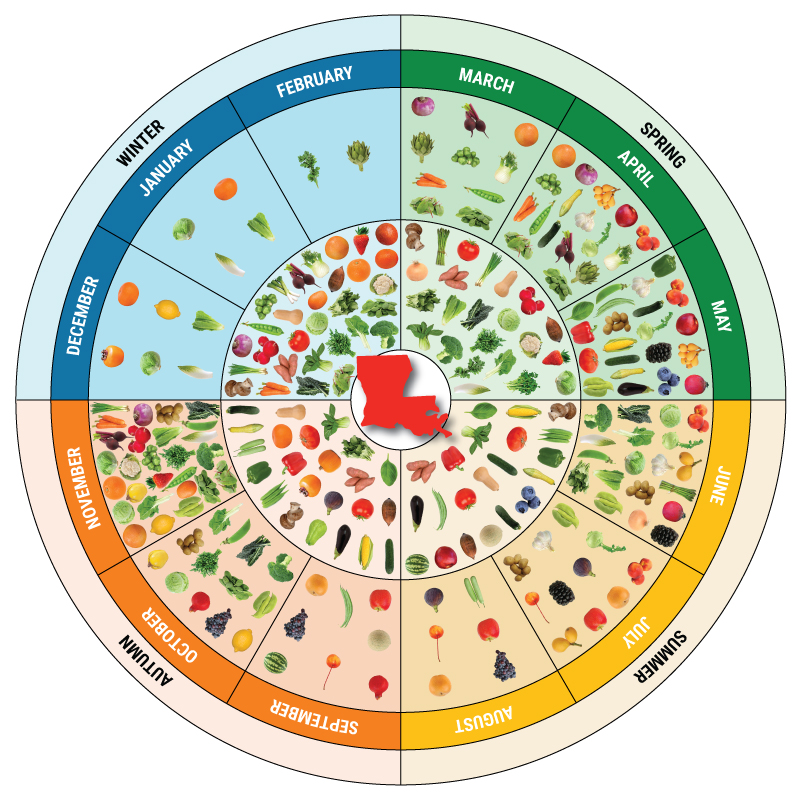 Local Food Procurement
There are many methods for getting local food into your cafeteria. Regardless of the method you choose, you must always follow federal procurement rules and regulations. The resources below will help navigate the procurement process.
Sourcing Local Foods
You can source local foods for your Farm to School program all year with a little planning, knowing what products are in season and by working with your distributors and local farmers.
Channels for Sourcing Local
Distributors
Direct from Farmer
School Gardens
Farmers Markets
Buyers Cooperatives
Food Hubs

Tips for Sourcing Seasonal Food
Buy fresh fruits and vegetables that are in season.




Late Summer

: sweet potatoes, green peas/snap peas, cucumbers, eggplant, mushrooms, okra, peppers, squash, tomatoes, watermelon


Fall

: greens, sweet potatoes, green peas/snap peas, spinach, cabbage, cucumber, eggplant, mushrooms


Winter

: broccoli, chards, greens, spinach, carrots, citrus, sweet potatoes, winter squash, cabbage, mushrooms, radishes


Spring

: broccoli, chards, greens, lettuce, spinach, carrots, sweet potatoes, green peas/shell peas, cauliflower, mushrooms, radishes, strawberries, summer squash, tomatoes, blueberries


Summer

: lettuce, sweet potatoes, cantaloupe, green peas, snap/snow peas, potatoes, cucumbers, eggplants, mushrooms, onions, peppers, tomatoes, watermelon

Buy from farmers who use season extension methods such as high tunnels or greenhouses.




Example

: Richland Parish School Board renovated greenhouses at Rayville High School to grow hydroponic lettuce and tomatoes for their school cafeteria meals (late winter or early spring: salad greens).

Buy protein, dairy products, and non-perishable food items year-round.




Protein and Dairy

: Seafood, meat and dairy products such as milk are typically available in Louisiana year-round.


Non-perishable Items

: Whole grains and rice are easy to store with no loss of quality for year-round availability.
Local Food Procurement Success Stories/In the News
2016

Richland Parish School Board
A Fresh Approach to Feeding Students (article)
Finding Local Food
There are several ways to find local products. Below are great databases, tools and resource organizations that will support your efforts.
Louisiana Market Maker: This is a searchable database of growers and producers in the state.
Louisiana Department of Agriculture and Forestry: Your state Department of Agriculture is a great resource for identifying local farmers.
Louisiana Grown. Real. Fresh.: This website was developed by the Louisiana Department of Agriculture and includes contact information for specialty crop farmers and producers in Louisiana.
Cooperative Extension: Connecting with cooperative extension is a great way to learn what farmers and producers are in your area. In Louisiana, Louisiana State University and Southern University both have Agriculture Research Centers with cooperative extension agents who can help you locate local farmers.
USDA Farm to School Census: This census provides information on what schools and districts in Louisiana are participating in Farm to School. Use this tool to see who in your area is purchasing local food.
The Farmers Market Directory: The Farmers Market Directory is an online directory with information about Farmers Market locations, directions, operating times, product offerings, accepted forms of payment, and more. Connecting with your nearby Farmers Market is a great way to build a relationship with local farmers.
Louisiana Farm to School: Louisiana's statewide Farm to School network can help you connect with local farmers and others who are sourcing locally.

Seasonality Wheel
Click on a month or season in the Cycle Menu Seasonality Wheel to see what Louisiana products are available or select a product in the legend to see when it is available.